"Change. It's the most popular topic on the Internet this week. Some folks love resolutions; some rally against them. Some may call them intentions, rituals, goals or promises." ~Kris Carr, author of Crazy Sexy Cancer.
This week I compiled a list of e-book Healthy Discoveries to help you create healthy habits and achieve great things via your 2012 resolutions. Regardless of which part of your life you resolve to change, these resources can help you get clear about what you want and why. They'll teach you how to follow-through and maintain your focus throughout the whole year.
1. Unraveling The Year Ahead – Susannah Conway hosts a popular photography e-course which takes people through The Unraveling Process– using a camera as a tool to unlock how we see not only ourselves but also the world we live in. We do this in the simplest way: we stop and look. Beginning with your feet, you're going to go on a photo safari into your own life to reconnect with who you are, where you've been and where you want to go next.
Susannah also created this FREE download for you to write about and reflect on the past year while focusing on a fulfilling New Year.
2. How To Live Your Best Life- Marelisa and I frequently chat on Twitter. She has a fantastic blog, she writes great eBooks, and she's a true Healthy Discovery. You can download, How To Live Your Best Life, and all the wonderful bonuses Marelisa provides for only $17.95  Click here to view more details
3. The Right Brain Business Plan – Are you an artist, health and wellness professional, educator, coach, designer, writer, photographer, non-profit leader or all-around creative soul wanting to make a positive impact with your entrepreneurial endeavors? Do you dream of making a living doing what you love but find the process of creating a viable business plan like trying to fit a square peg into a round hole? Jennifer Lee knows what it's like to make the entrepreneurial leap — and how to do it successfully. The key is using, rather than stifling, imagination and intuition. Lee's illustrated, colorful worksheets and step-by-step instructions are playful yet practical, transforming drudgery into joy. They'll enable you to define your vision and nail down plans for funding, marketing, networking, and long-term strategy.
Click this picture for more information.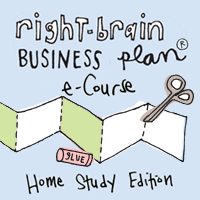 4.  Sustainable Creativity – Learn to use whatever energy you have available, however limited it may be, to maintain a creative life (or livelihood). Maybe you're someone, like the author, who has a chronic illness which means the energy available for creative endeavors is severely curtailed.
Or maybe your days are so full of the busyness of life that you have very little time or energy left over to pursue your creative ambitions. Either way, Sustainable Creativity could be for you.
Keep things simple
The 20-minute a day challenge
The three-thing (or even one-thing) to-do list
Recognizing and celebrating your achievements
Being kind
Enjoy the journey (or try to anyway)
Practical ways of working with your energy bank
The magic of saying "no"
The suggested price is $15.00 but you're welcome to pay as much or as little as you can afford. Click here to visit Sustainably Creative.
5.  The Spark Kit- A digital book-meets-video seminar to help you rock your business… your way, right away. You: are likely sitting on an empire of content, product, services, and prosperity that needs a spark — or blow torch — to take it to the next level. You: want to rock your revenue and do meaningful things in the world. You: want to do it as soon as possible.
Click this picture to order your Spark Kit today.

6. Secrets of Lasting Weight Loss Revealed – I'm a fan of Kat Eden's blog because she trained with Charles Poliquin. Poliquin is the creme de la creme when it comes to nutrition, fitness, supplementation, and fat loss. Kat Eden takes the knowledge gained from Poliquin and wrote her own eBook. If you want a legit, top-notch nutrition and weight loss plan for 2012 I highly recommend, Secrets of Lasting Weight Loss Revealed for $37.00 – Click here to visit Play Life Health and Performance Coach and purchase:
7.  I Quit Sugar- Are you ready to take the plunge and remove sugar from your diet? You will look and feel 100% better, plus you'll have that much more energy to accomplish great things this year!
An 8-week program that walks you through each crucial stage, week by week
How + why sugar is making us fat + sick
A sugar replacement plan: tested + nutritionally sound
"Sweet" sugar-free recipes
New treat ideas
A detox + a suggested supplements list
A downloadable shopping list of new ingredients to replace sugar in your life
Click here to view more details
As the calendar flips from one year to the next, you may perceive your experiences from the past year as fair or unfair, burdens or gifts, triumphs or struggles. Either way, I love this quote by Ali Smith, "In the end, everything simply began."
Happy New Year!
Disclaimer: Product links are part of an affiliate program.