I was in Ozo Coffee Shop in Boulder a couple months ago when I saw this sign in front of some individually wrapped pastries.
So I bought a slice of the gluten-free pumpkin bread.
It was really good!
In fact it was so good I started going out of my way each time I was in Boulder to find some Outrageous Baking products. This Boulder based gluten-free baking company makes Pumpkin Bread (my favorite) Lemon Poppy Seed Bread, Chocolate Zucchini Bread and Cinnamon Coffee Cake.
Now, if you're a strict Paleo Eater (no grains, no flours) this obviously isn't for you. Sorry! But if you're like me (80%-90% Paleo and then enjoy an occasional gluten-free treat) this is a Yummy Healthy Discovery.
Their products are gluten, dairy and soy free. Love that! I also like that they use organic cane sugar for their sugar source and the rest of the ingredients are real foods that we all recognize when reading the ingredient paragraph, i.e. eggs, pumpkin, sea salt.
Pumpkin Bread
Nutritional Information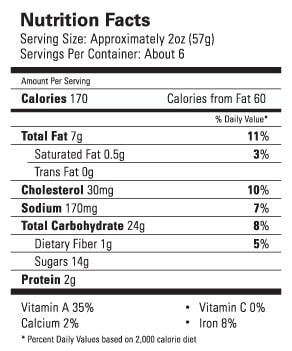 Ingredients: Brown Rice Flour, Potato Starch, Tapioca Flour, Sorghum Flour, Eggs, Rice Bran Oil, Organic Cane Sugar, Pumpkin, Sodium Bicarbonate (Baking Soda), Xanthan Gum, Sea Salt, Spices.
If you are in active weight loss mode I wouldn't recommend eating a lot of sugar, grains and flours i.e. brown rice flour, potato starch, tapioca flour and sorghum flour. But, for an occasional sweet treat this is put together well from a nutritional perspective. Outrageous Baking gets my stamp of approval.
If you don't live close to any of these coffee shops that carry Outrageous Baking products  you can order on-line and they will ship their baking mixes directly to you.
Finally, here's a little unknown fact that most people don't know about me. A couple years ago I was in the preliminary stages of launching my own gluten-free muffin that I wanted to sell to coffee shops. I thought then, and I still think today, that there is a big market for healthy, gluten-free pastry options in coffee shops.
But I discovered it is not easy to make, store, package, and deliver a baked good that is healthy, has a limited shelf life and still make a profit. The reason I was motivated to try this in the first place was because *I* want a tasty, healthy, gluten-free option when I'm in a coffee shop.
So when I randomly bought and tried Outrageous Baking's pumpkin bread I was totally impressed. Not only did it taste really good, but they are pulling off a business idea that I think has huge potential.
Note: I have not met the Outrageous Baking team, nor do I have a connection to them in any form. I just love their products and love sharing my Healthy Discoveries with you.
Enjoy!